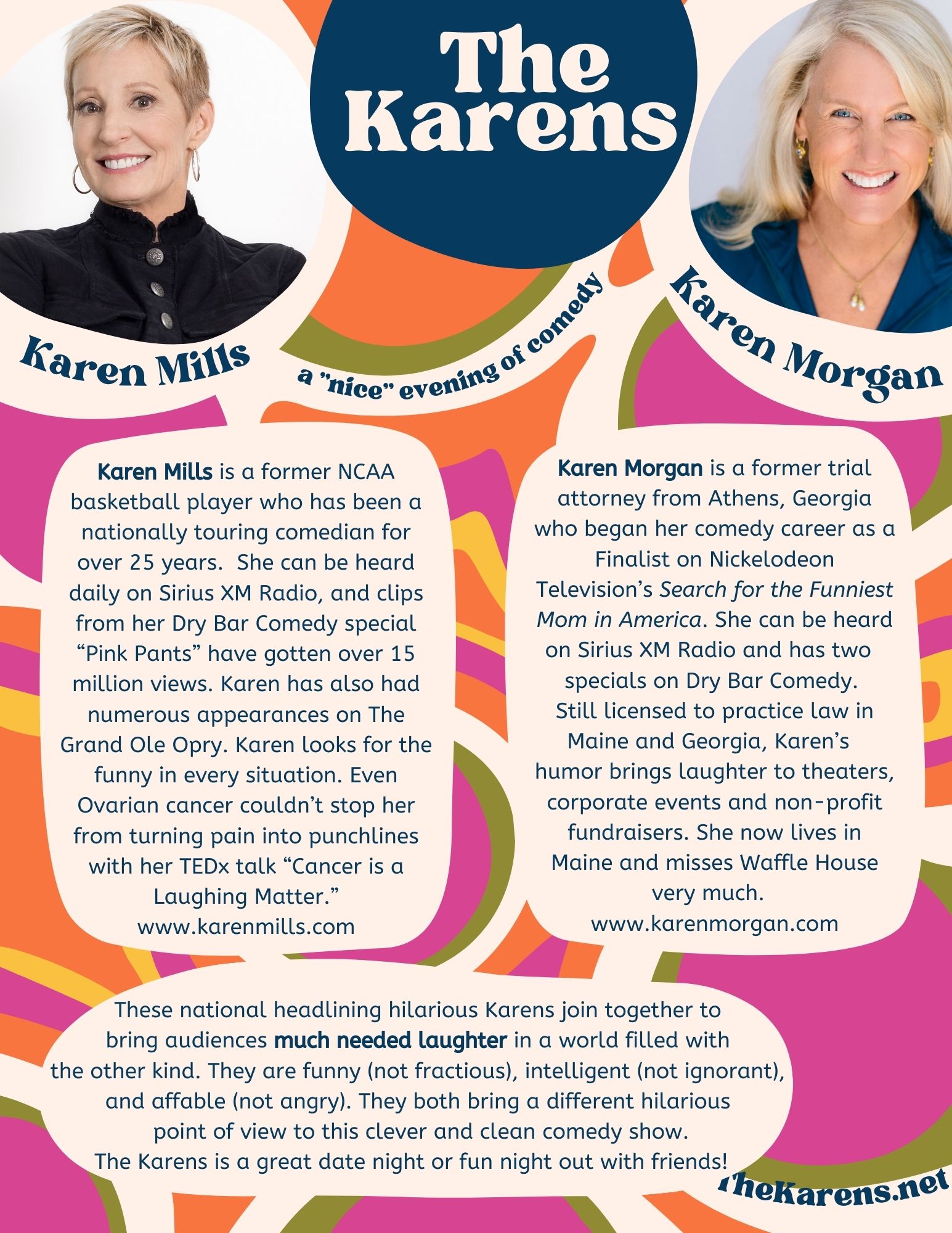 The Karens
The Karens are coming to the Lakeland Cultural Arts Center!
At a time when we occasionally cross paths with insolent "Karens," it's nice to know that some real good Karens exist. National headlining comedians Karen Mills and Karen Morgan join together to bring you an evening of comedy filled with lots of laughter and zero toxic behavior. Unlike the other "Karens" you read about in the news, these Karens are funny (not fractious), intelligent (not ignorant), and affable (not angry). They both bring a different hilarious point of view to this clever and clean comedy show.
ABOUT THE PERFORMERS
Karen Mills has been a nationally touring comedian for over twenty-five years. She can be heard daily on SiriusXM comedy channels and clips from her comedy special "Pink Pants" have gotten over 21 million views. Karen appeared on Season 12 of America's Got Talent and has had numerous appearances on The Grand Ole Opry. She is currently touring theaters across the country with Leanne Morgan. Karen and Leanne have worked together since 2004 when they first met doing the Southern Fried Chicks comedy tour. 
​Karen has spent a lifetime entertaining. First as a point guard, "Little Mills" was always a crowd favorite. She started playing basketball in the 3rd grade and eventually earned a full scholarship to the University of Tennessee @ Chattanooga. In 1981, Karen led the nation in assists and became the first Division 1, first-team All American in UT-Chattanooga's history, male or female. Her #12 uniform was retired and in 1981 she became the first women inducted into Chattanooga's Basketball Hall of Fame.
​Karen has a straight-forward approach to the realities of life. Her smart, funny, keen observations will keep you laughing at yourself as you relate to her experiences. Even Ovarian cancer couldn't stop her from turning her pain into punchlines. Diagnosed in 2013 after a routine checkup, Karen was determined to take on the disease with hope and humor and in 2016 she was chosen to present her talk, "Cancer is a Laughing Matter" at TEDxChattanooga.
=====
Karen Morgan was born and raised in Athens, Georgia but now calls Maine home. A former trial attorney, she began her professional comedy career as a Finalist on Nickelodeon Television's "Search for the Funniest Mom in America." 
Karen's comedy specials can be seen on Dry Bar Comedy, and her latest album, "Cocktails in Pajamas," is now available on streaming platforms. Her TV appearances include comedy shows and ads for companies like Wal-Mart and Zyrtec. Karen's clean shows in Performing Arts Centers around the country have made her a favorite among theater audiences.
Still licensed to practice law in Maine and Georgia, Karen's humor brings laughter to many corporate events and fundraisers for charitable organizations. She lives in Cumberland, Maine and misses Waffle House very much.