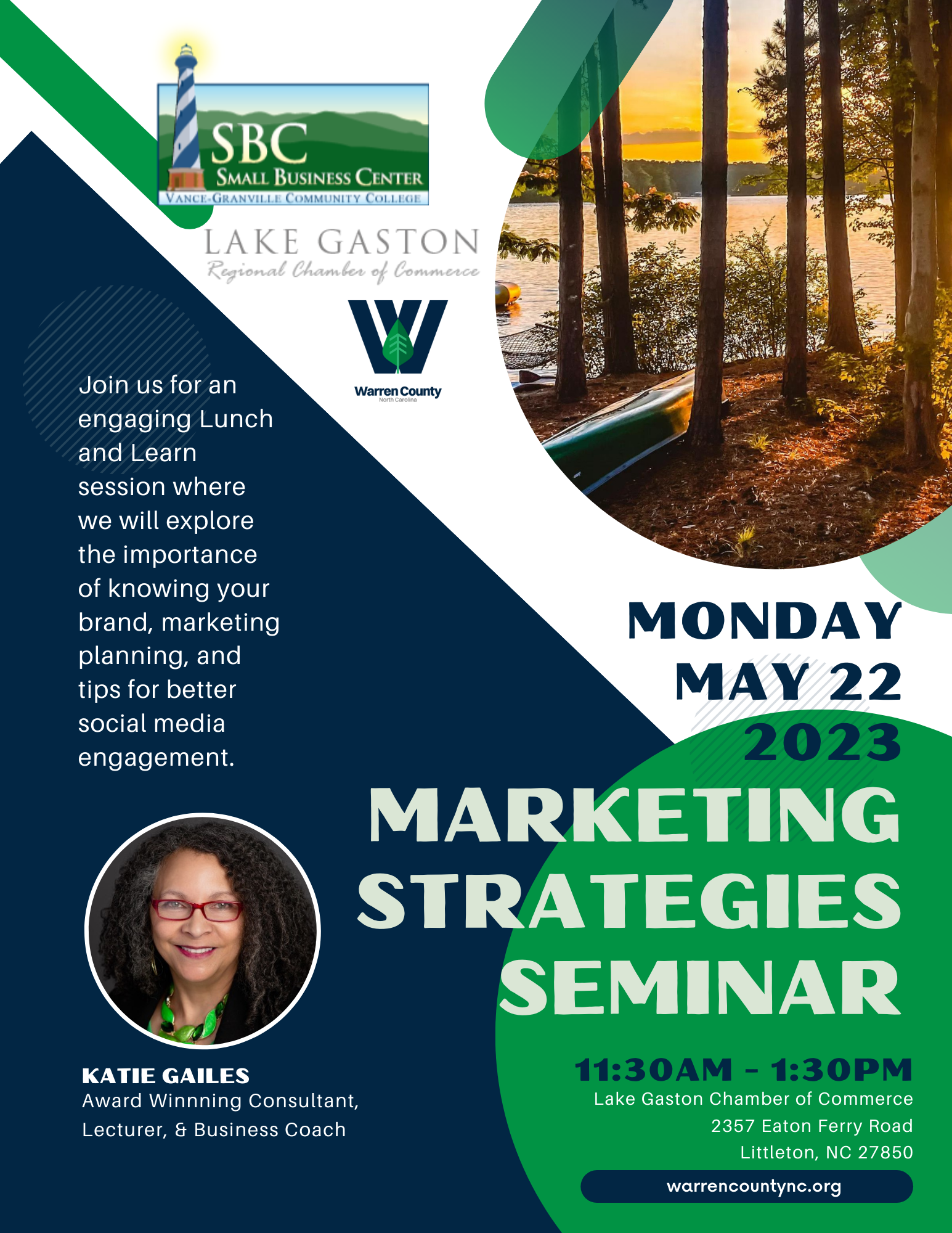 Marketing Strategies Seminar
Join us for an engaging Lunch and Learn session where we will explore the importance of knowing your brand, marketing planning, and tips for better social media engagement.
Register here.
ABOUT THE FACILITATOR
Katie Gailes is a proud native North Carolinian, born in Oxford. She has devoted most of her professional life to helping small business owners and entrepreneurs. Katie attended Bennett College for Women in Greensboro and the Duke University Fuqua School of Business.
She spent six years as a marketing and business strategy consultant for small businesses, then three years as a counselor in the Growing America Through Entrepreneurship (GATE) program at the NC Rural Economic Development Center, before joining Wake Tech.
As the Director of Entrepreneurships at Wake Tech, Katie co-founded the LaunchMyCity community-based economic development model. The program has trained approximately 600 small business owners and entrepreneurs across Wake County, North Carolina; about 70% of whom were African American and/or women. The LaunchMyCity model is now gaining traction nationally and internationally with programs in Johnston County, Rocky Mount, Goldsboro, and Durham, NC; Denver, CO; Lenawee County, Michigan; and in England.
Katie also co-founded OUR STORIES: Brave Conversations on Race, a project to increase racial understanding and peace in America. She was most recently the Senior Director of Membership and Diversity, Equity, Inclusion & Belonging at the National Association for Community College Entrepreneurship.
She serves on the Board of the Holly Springs Chamber of Commerce, the NC Business Council, the NC Women Business Owners Hall of Fame, the White Oak Foundation, and Carolina Community Impact (CCI) community development financial institution.
Katie now provides strategic planning consulting and entrepreneurship coaching and training in her own firm, Katie Gailes & Company.
Katie has received many awards for her work:
Rotary International, Paul Harris Fellow
North Raleigh Rotary, Service Above Self
Triangle Business Journal, Women in Business
Business & Professional Women, Woman of the Year
Triangle Entrepreneurial Leadership, Lifetime Achievement Award
Triangle Business Journal, Leader in Diversity
Morrisville Rotary, 2022 Change Maker
NC Department of Historically Underutilized Business (HUB) Collaboration Award
NC Women Business Owners Hall of Fame, Advocate Award