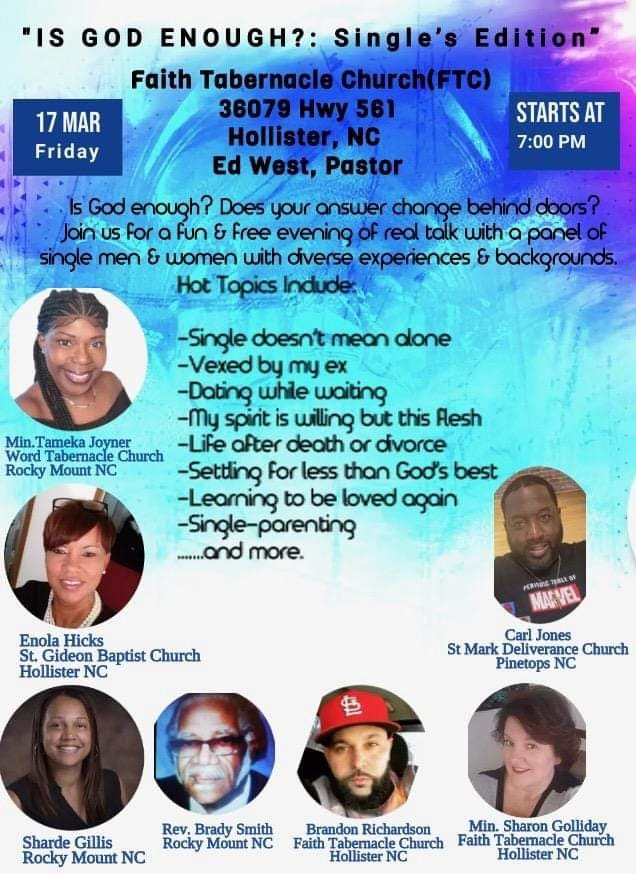 Is God Enough? Single's Edition
Is God enough? Does your answer change behind doors?
Join us for a fun and free evening of real talk with a panel of single men and women with diverse experiences and backgrounds.
HOT TOPICS include:
– Single doesn't mean alone
– Vexed by my ex
– Dating while waiting
– My spirit is willing but this flesh
– Life after death or divorce
– Settling for less than God's best
– Learning to be loved again
– Single parenting
…and more!
PANELISTS
Min. Tameka Joyner, Word Tabernacle Church, Rocky Mount, NC
Enola Hicks, St. Gideon Baptist Church, Hollister, NC
Sharde Gillis, Rocky Mount, NC
Rev. Brady Smith, Rocky Mount, NC
Brandon Richardson, Faith Tabernacle Church, Hollister, NC
Carl Jones, St. Mark Deliverance Church, Pinetops, NC
Min. Sharon Golliday, Faith Tabernacle Church, Hollister, NC