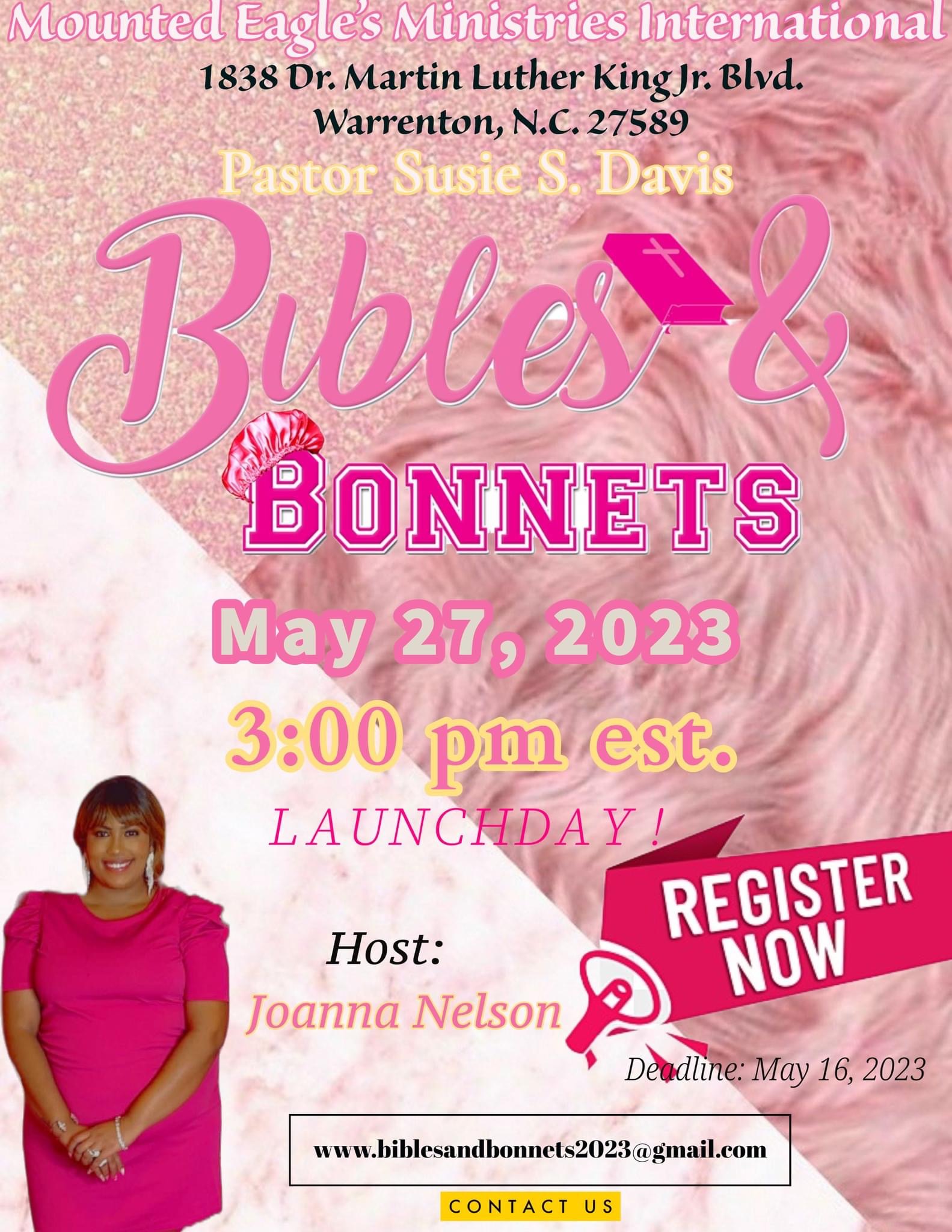 Bibles & Bonnets Launch Day!
Sisssss, may I have your attention for a moment?
Bibles & Bonnets is finally launching!! Bibles & Bonnets is a ministry empowering women to learn about Jesus Christ and live according to His perfect will. At times we can get caught up in fixing our hair, doing our makeup, & making sure our outer appearance is top-notch. As stated in 1 Peter 3:3-4, true beauty is within.
Our mission is to help you realize your worth in Jesus Christ! The name comes from learning how to read/understand the Word of God. Bonnets come from a comfortability aspect. We often are intimidated by titles or authority and are afraid to ask questions. Our vision is to help you grow into Christ as comfortably as possible. I would love for YOU to join us and learn more information on launch day.
Click the link to register and purchase tickets and/or t-shirts! https://www.eventbrite.com/e/bibles-and-bonnets-launch-day-tickets-602203917127
Email us at BiblesandBonnets2023@gmail.com if you have any questions or concerns. *Read below for FAQ*
Registration cost: $0-$15.00+tax
Paid registration includes a gift bag, entry to win prizes & a meal!
Free registration includes entry to win prizes and a free wristband!
*PLEASE register to receive any of the two options*
There is no age limit for launch day. Bring mom, grandmom, daughter, sister, cousin, friends, etc.!
You do not have to join our church to be a part of Bibles & Bonnets.
https://www.eventbrite.com/e/bibles-and-bonnets-launch-day-tickets-602203917127