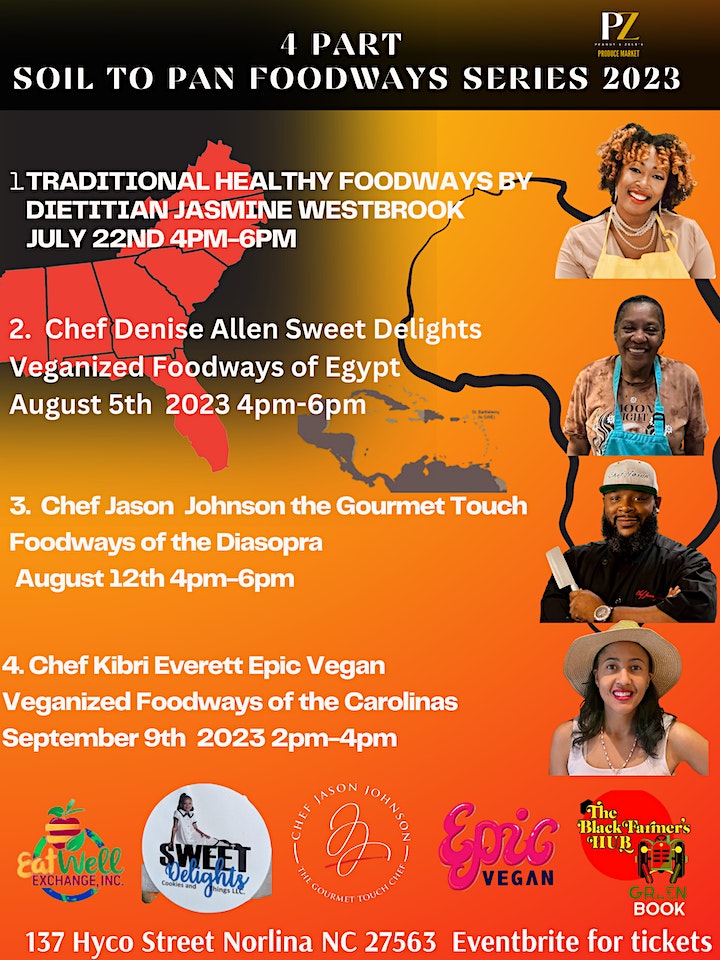 4 Part Soil to PAN Series 2023 (Part 4)
Join Peanut and Zelb's Produce Market for the "4 Part Soil to PAN Series 2023" event, where we'll explore the journey from soil to plate, indulging in the magic of food.
The 4 Part Soil to PAN Series 2023 is an exciting event that you don't want to miss! Join us on Sat September 09, 2023 at 137 Hyco Street, Norlina, NC 27563 for an immersive experience into the world of agriculture and food production.
During this in-person event, you'll have the opportunity to learn about the entire journey from soil to your plate. Discover the secrets of our Foodways and traditional African cooking practices, explore the importance of keeping the traditions, and gain insights into the various stages of Foodways of the diaspora.
Get ready to engage with industry experts, farmers, and food enthusiasts who are passionate about understanding more traditional Foodways. Learn the nutritious value in your food. Through interactive workshops, informative presentations, and hands-on activities, you'll gain a deeper understanding of the vital role that the Foodways of African culture plays in our daily lives in the Americas or as diasporan.
Whether you're a seasoned chef, a curious foodie, or simply interested in learning more about where your food comes from, the 4 Part Soil to PAN Series 2023 is the perfect event for you. Come and be a part of this educational and inspiring experience!